Product Description
Bead Bracelet Kit by Sherri Haab
Bead Bracelet Kit by Sherri Haab
Learn to make custom beads and this interchangeable bracelet by the talented artisan and instructor Sherri Haab. The accompanying 4 page step-by-step How-To has detailed color photos and instructions of each step.

Sherri is a certified metal clay instructor, leading numerous metal clay craft and jewelry making workshops nationwide. She is a best selling and award winning craft author with over 20 published books and DVDs. Her television appearences include The Carol Duvall Show of HGTV, Jewelry Making on the DIY Network, Good Things Utah (ABC) and Beads, Baubles and Jewelry on PBS.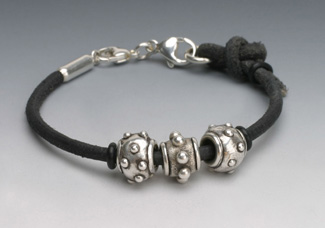 This Kit Includes
Step by Step Instructional How-To by Sherri Haab
1 - Leather Cord Bracelet with Affixed Sterling Silver End Cap with Ring
1 - Sterling Silver Double Lobster Clasp
1 - 14 gauge 5.5mm ID Jump Ring
4 - Bead Stops
2 - Cord Ties
4 - 1/4" Wide Fine Silver Flared Bead Cores
60 - Assorted 1.5mm, 2mm, & 3mm Fine Silver Solid Balls
Basic Supplies You Will Need
Your Choice of Metal Clay with Low Shrinking Properties
Work Surface
Olive Oil or Badger Balm
Clay Roller
Playing Cards
X-Acto Knife
Clay Shaper Tool
Small Paint Brush
Emery Board or Small Nail File
Kiln or Small Firing Device
Burnishing Brush
Burnishing Tool
Polishing and Sanding Papers
Tweezers
Fire Brick or Solderite Pad


Product Videos
Product Reviews
You May Also Like...